Broke out the soldering iron and upgraded my 2014 SGJ pickups. Sounds amazing! Gave it a good cleaning too, it needed it badly.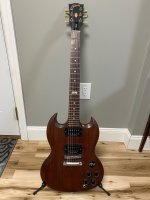 It is a satin finish so it shows all the wear and tear quickly and I don't mind.
@jaydog
if you need to play standing up for a long period check out the SGs. Whether Gibson or Epiphone. They are lite as hell.